Hoanh
Yes, many people talk very fast making it hard on Hoanh to understand what they are saying. Even her 9 year-old grandson, Andy, talks very fast. But, Hoanh perseveres and continues to come to come to English classes at DALC to learn English. "I need things slow," she said with a smile. "I want to talk fast!"
Hoanh came to the United States from Tien Giang, Vietnam in 2005 to join her son, Dung, and his family. She left one daughter, four sons, and another grandson in Vietnam. Every month she talks with her family back home.
Since 2005 she has come to DALC to take English classes with many of the ESOL teachers, including Thuy, Paula, Pam, and Bill. Now she is taking English classes with Joyce in the morning. She does not drive and relies on her son to drive her to class. Because of his job, she explained, the evening class is the option now. But, Hoanh is very happy in Joyce's class. She also meets with a volunteer tutor, Judi, one day a week. "I understand now," she said proudly.
Hoanh is happy to learn English and be in the U.S. She said that she watches television, including the news and cooking shows. She does take walks alone, but when it snows, "I do not go out." And, excitedly she says that she likes the freedom in the U.S.
Fred
Fred Maloy has had to cut back on many of his activities, like driving, due to his Parkinson's disease. But as far as reading goes, he devotes several hours a day to improving his reading.
Fred will be 80 this summer. Before he retired, he could not read. Even when he was a foreman on the job, no one knew he could not read. In his early 70s he decided to come to Dover Adult Learning Center, where he got special one-on-one tutoring for reading. Now, slowly but surely, he reads stories in the workbooks that his tutor provides for him. He is always amazed when he can easily read long words like apartment and newspaper, but struggles to decode short, common words like what and where. He knows that he has dyslexia, a word processing disability, but he knows that he is now actually reading. That's rewarding enough to someone who once was illiterate.
Ray
Ray Stackpole can talk for hours about race horses. He spent many years taking care of horses before and after some of the biggest races. Now Ray volunteers at the horse stables of the Dover Police Department. He also goes to the Senior Center to play cards every Tuesday. And before he plays cards, he meets with his tutor to learn how to read.
Ray struggles to connect the right sound with the right consonant. Vowel sounds are even harder. But Ray keeps coming every Tuesday to meet with his very patient tutor, Heather Carney. Ray feels good about learning to read. He is a true example of the wise saying, "It's never too late to learn."
Natalie and Elizabeth
Natalie and Elizabeth lead very busy lives but yet make sure they attend Donna Shannon's Life Skills classes on Tuesday/Thursday morning plus Tiffany Brand's Monday night computer classes.
On the day they were interviewed, they were learning about beneficiaries and insurance in Donna's class. "She makes our brains hurt," one twin said of Donna. "She gets us thinking every day." They both enjoy Donna's classes. "I like Donna and the way she teaches," Natalie said. Right now they are learning the U.S. states and their locations. The goal is to be able to fill in a blank outlined map by the end of the year.
The twins have attended Donna's classes for the past two years. They both agree that they have become smarter as they have strengthened their multiplication, addition, and subtraction skills. They also read and write stories more than previously. They love the activities in class: word searches, Christmas balls, and making Easter eggs. And, they've become friends with others in the class.
In addition, the twins have attended three of Tiffany's computer classes. Presently they are taking keyboarding to improve their speed. Previously
they took beginning computers and Excel. With Tiffany as their teacher, they said they have learned a lot, such as PowerPoint and spreadsheets. "I've learned so much that I've never done before," said one of the twins. Both are thinking of going on in school. Elizabeth would like to go to beauty school to learn cosmetology, and Natalie wants to be a prep cook or office work.
When they are not in classes, they go to the UNH horse barn to ride as well as to The Works to exercise. When their neighbor or their friend is available, they go to the Mall, the movies, or out to eat. Then there are their three cats and new dog, Patches, at home. They got Patches in December. He is a Chiweenie which is a Dachshund and Chihuahua mix. It is hard to believe they have time for everything, but it is obvious they are immersed in living, learning, and enjoying life.
Adrian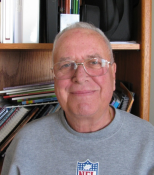 Driven by his desire to speak English more fluently, Adrian will gladly try his new language out on anyone willing to talk with him. Since arriving from Colombia in January of 2011, he has been attending classes here at Dover Adult Learning Center. When he arrived, he could read English, but he could not speak it so that Americans could understand him, nor could he understand what they were saying to him. This made it very difficult for Adrian to find employment, primarily because it was so important to be able to speak and understand English during interviews. He was finally successful in landing a job at Liberty Mutual as a power punch press operator. Fortunately, his direct supervisor speaks Spanish, which makes his job easier while he continues to master English.
When he lived in Colombia, Adrian drove a bus for work. Adrian's mother, who has lived in the United States for approximately 15 years, began the application process to bring Adrian here five years ago. Finally, his application was approved and he joined his mother here. Almost immediately Adrian began attending Martha's Level I English class. Through his hard work, Adrian was able to advance to Jodi's Level II class this year. Adrian spoke glowingly of both teachers, "they are good teachers," he said, "I like everything" in the classes. How does he like being better understood now? One of Adrian's favorite stories to share involves a time when his fellow Colombian girlfriend needed to use a restroom and he was able to obtain the information she needed. It is clear that Adrian enjoys his new home. He enjoys watching "House" on television, exercising and trying out his new language as often as possible. He understands that speaking English is important to his effort to obtain U. S. citizenship. "He is one of the brightest, shining stars in the class," says Jodi.