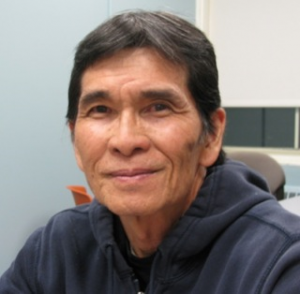 Two students in Carol Birch's ESOL class have earnestly been working on improving their English. They both were in Jodi Edward's class last year, and both progressed to Carol Birch's class this year. You will find them there every Tuesday and Thursday evening working on their pronunciation and writing, with a lot of laughter in between. "They obviously care so much and try so hard," said Carol. "They are amazing people!"
Arthur has been coming to classes at DALC for two and a half years. He quietly searches for words to answer questions. He says he comes to classes "to practice for communication." In class he works on English grammar, writing in English as well as learning new words.
He claims both his wife and daughter speak English better than he does. He came to the United States in 2008 from Indonesia. His parents were farmers, and he worked with agricultural fertilizer. Arthur and his wife were able to join their only daughter, who is studying design at New England College in Manchester. As he found work at Goss in Durham rather than Manchester, this necessitates a separation from his family which he accepts with grace. They all get together every weekend, sometimes going to Boston and sometimes gathering in Manchester.
If the United States is brought up in conversation, Arthur's face beams. He says he loves the freedom. As to the food, he enthusiastically says he enjoys everything from pizza to hamburgers. Although he can drive, he says he enjoys walking and is known to walk from Somersworth to Dover and back. Coming from a country with two seasons, warm and cool, Arthur smiles when he speaks of the four seasons in New England. As to whether he enjoys the snow, he politely replies "so, so." And, yes, he has thrown a snowball. At whom was not mentioned in his smile.
Herawati, or "Lisa" for those who cannot pronounce her name, also came from Indonesia. Lisa studies English in Carol's class now and was in Jodi's class last year.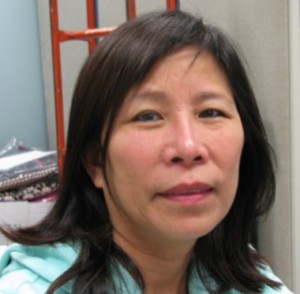 "I worked in Indonesia for twenty years, and I was bored," said Lisa. She was a marketing supervisor in a pharmacy and decided she wanted to live in the United States. She has been living in the US for seven years years and has been working in motel housekeeping for six years she enjoys it, but says the lifting makes her back sore. . Carol says, Lisa "is exhausted, but she finds the energy to come to class each night." Learning to communicate better in English takes on more of an urgency when considering Lisa's home life. Love blossomed when she met an American and married him five years ago.
Although modest, Lisa obviously understands more English than she will admit. She laughs as she recounts the American TV programs she watches. They include Tom and Jerry cartoons, and "Everyone Loves Raymond," which she enthusiastically claims is hilarious. Like Arthur, it is obvious she enjoys her life here in the States. Lisa says she exercises at The Works with yoga and relaxes in the hot tub. And, as to snow, Lisa who comes from the very large city of Jakarta, also says she enjoys the snow "so, so" and adds that she enjoys it from inside her house!