In Loving Memory of Army Ranger CPL Andrew A. Aimesbury, 75th Ranger Regiment, 1st Battalion, Delta Company. 
The CPL Andrew Aimesbury Memorial fund provides support and special scholarships to DALC graduates. There is no deadline to apply for this scholarship. Apply any time during the school year.
To make a contribution click on the link. You will be able to use PayPal or a credit or debit card.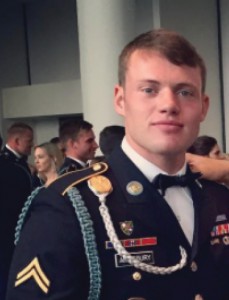 Andrew's story as told by his family
Our beautiful son and brother, was killed during a military training accident December 09, 2015, serving his country and doing what he loved. Andrew accomplished so much in his 21 years. He was a great leader and everyone he met learned something from him. He loved kind people, protected those that were mistreated and always encouraged his family and friends to be their best.
Many people do not know that Andrew struggled in school over the years. Andrew was very smart, but traditional school structure did not fit him. Andrew finished the 9th grade and then failed his 10th grade year. Andrew's guidance counselor at Dover High School, once said, "Andrew, if I could give you a grade for personal character, I would give you an "A", but you have to do your homework." We will forever be grateful to Martin Castle, for encouraging Andrew to pursue his GED at age 16. While a GED/HiSET is not seen as the standard path to success for many, it is the path that allowed our son to excel.
The staff at Dover Adult Learning Center in Dover greeted Andrew with open arms and assisted him in his pursuit of his GED. Andrew received his GED certificate on his 17th birthday, one of the most proud days of his life at that point. He then enrolled at Great Bay Community College in Portsmouth, NH to pursue criminal justice. While there, he made the decision to join the Army and to ultimately become an Army Ranger.
We hope that you will help continue Andrew's legacy of helping people.